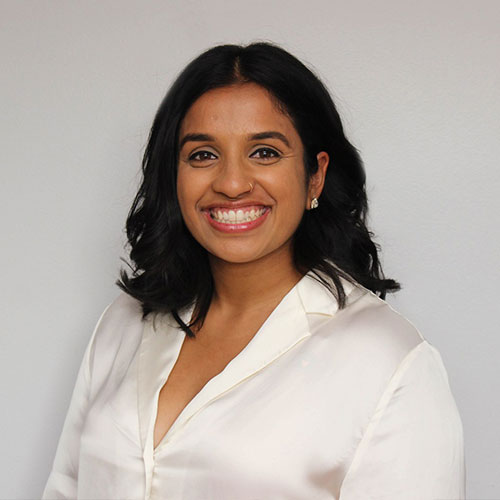 Dr. Dharani Nimal, Chiropractor
Dr. Nimal is an advocate for evidence-based, patient-centred care. She is a practitioner that emphasizes patient education – whether that be about your diagnosis, treatment plan or goals you wish to accomplish. She strives to promote a return to regular activities without compromising function and active care as a key component to recovery. Her treatment approach includes a combination of chiropractic adjustments, joint mobilizations, acupuncture, soft tissue therapy, and exercise prescription.
Dr. Nimal graduated Cum Laude from the Canadian Memorial Chiropractic College (CMCC). Prior to CMCC, she received her Bachelor of Science in Kinesiology from the University of Waterloo.
Dr. Nimal is continually elevating her skills to better serve the prenatal, postnatal and paediatric populations. Dr. Nimal is a certified GrowCo ambassador, which allows her to provide you with expert-level postnatal rehab as well as a Paediatric Intraoral Palate Specific (PIPS) technique provider to assist your little ones with tongue-tie, lip-tie, breast feeding concerns, torticollis or if they need a well-baby check-up.
Professional Highlights:
Doctor of Chiropractic – Canadian Memorial Chiropractic College (2021)
Bachelor of Science (Honours – Kinesiology, Co-op) – University of Waterloo (2021)
Contemporary Medical Acupuncture – McMaster University (2021)
Building Blocks for Therapist (Post-Partum and Pediatric Assessment) – (2021)
GrowCo Health Professional Seminar & Ambassador Certification – (2022)
Advanced Paediatric Bootcamp & Paediatric Intraoral Palate Specific (PIPS) Technique Certification – Baby Boom Creations (2022)
Infant Adjusting Seminar – Dr. Stephanie Libs (2023)