Live a healthier, fuller life with regular chiropractic care.
Do you live every day in constant pain and discomfort? Do you wish you had greater mobility and could be more active? Do you struggle with a lingering injury and the pain that comes with it? Seeing a chiropractor can help you improve your mobility and range of motion, while also helping you reduce any chronic pain you experience on a day-to-day basis.
If you need a chiropractor in the Pickering, Ontario area, come and see us at Active Integrative Medicine. Our chiropractic clinic focuses on holistic wellness, and we want you to become the best version of yourself. We believe that health is your most valuable possession, and we are dedicated to providing customized, compassionate, and effective chiropractic care.
"Dr. Lester has helped me tremendously."
"Walked into the clinic practically on crutches due to extremely painful plantar fasciitis that had been going on for months. In just 6 weeks, Dr. Lester has helped me tremendously to where now I'm able to finally get around on my own! Reception staff is friendly and welcoming. Thank you."
★★★★★ Sara B.
Chiropractic
Our team will promote healthy movement through the use of spinal adjustments and active rehabilitation.
Naturopathic Medicine
Our Naturopathic Doctors provide a natural approach to all your health care concerns.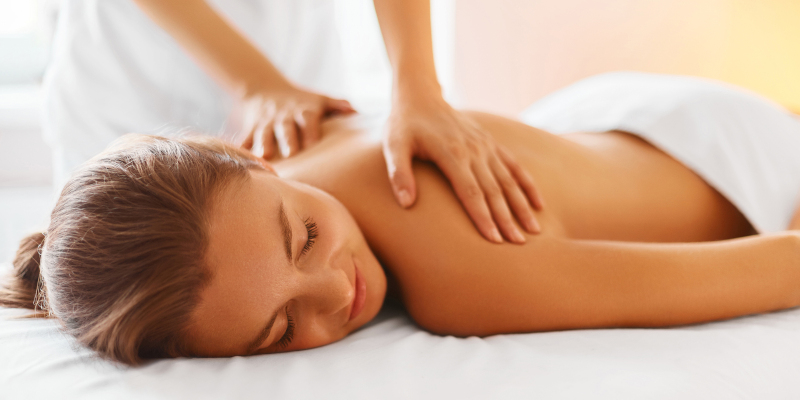 Massage Therapy
Massage therapy is a great way to alleviate pain and promote relaxation.
We are committed to providing the best care using both traditional and Western practices.
How often should you see a chiropractor at our office? We recommend starting with your custom consultation. Your chiropractor will outline a plan for your care that includes general recommendations and directions. At this time, your chiropractor will inform you about how often you should schedule your visits to start to see the results you want. We can also incorporate sessions with other members of our practice into your plan, which can include seeing our acupuncturist, massage therapist, or naturopathic doctor.
Our comprehensive wellness clinic is here to provide sustainable health solutions and individualized care. For more information about our services or to schedule your next appointment with a chiropractor, please contact us today.
Why choose Active Integrative Medicine?
At Active Integrative Medicine, we founded our clinic with the vision of inspiring healthy and active living. Our approach is simple. We believe that health is our most valuable possession. So, we are committed to providing our patients with the best care. Our healthcare team is comprised of naturopathic and chiropractic doctors, an acupuncturist, and registered massage therapists who work collaboratively to optimize patient health and healing.
Check out what some of our customers have said about our chiropractic services.
Peter Rebek
★★★★★
I had a really good massage from Roxanne today. I highly recommend her to provide relief for those sore or aching muscles.
samira sahi
★★★★★
Abby has magical hands. Whenever I tell her about any specific pains like upper back or my heels, she does her magic there. I leave the room totally painfree.She is just amazing and a lovely person .
Sanny
★★★★★
Meeting with Dr Diane Peters was a pleasure. She took time to get to know me and ensure that I felt comfortable with her advice.Thank you again Dr Peters
Chef Berman temptations
★★★★★
I found the whole experience from Victoria and Jamie at reception who greeted me with a smile and kind voice, to Dr. Lester who took his time to listen to the issues at hand, and treated me with exceptional professionalism and compassion. Highly recommend this entire operation.
Diane Riddick
★★★★★
Great massage.
닥터레이
★★★★★
Amazing Chiropractor and team. I am a dentist and I was out of work for few days but right after the appointment - I was able to walk again. I would recommend Dr. Lester to my family and friends for sure!!!
Kathrine Vincent
★★★★★
I have only visited Dr. Ho twice, but even after those two interactions, I have discovered so much about my hormone and gut health. She is a wealth of knowledge and really takes the time to answer all of my questions. I feel optimistic about my health for the first time in a while and I thank Dr. Ho for that. Also, the clinic is beautiful and clean and the administrative staff is super friendly and helpful!
Silvia Fakhouri
★★★★★
Went in for my initial visit with Dr Lester. He was thorough with my medical and physical assessment. Very honest. I recommend him to anyone looking for a good chiropractic care. And I had a great experience with Melissa as well. I'll recommend her to everyone I know. Thank you both so much!
Sanjay Vishwanathan
★★★★★
Melissa and Dr Lester are great at what they do, very professional and knowledgeable.
david denton
★★★★★
I have been a patient of Dr Diane Peters of 8 years and would recommend her for improving a person's health.
Hamnah Siddiqui
★★★★★
Always so helpful!
Bridgette Bi
★★★★★
Dr. Ho was attentive and helpful in coming up with a treatment plan for me. She took time to explain concepts and approaches, and helped me to understand things for myself.
Cheryl Morrow
★★★★★
Dr. Nimal is fantastic! Very professional. I have had issues with my wrist / thumb for 8 months seeing a surgeon with no relief from pain . One visit and I was 80% Better.So Thrilled with the overall experience at Active Integrative medicine.
CaptainBlankENT
★★★★★
Going to AIM has honestly been one of the best decisions my wife and I have made. Our family doctor would rather wait for us to show symptoms of illness before doing any testing, so we decided to seek out a naturopath.Dr. Diane and the AIM team took the time to understand our needs and concerns, educate us about options, and facilitate our desired tests. She took the time to explain all results to us, and gave us feedback about ways to optimize our health. I cannot recommend her enough, and I am so thankful we trusted our instincts and explored naturopathic medicine.
Sara Burke
★★★★★
Walked into the clinic practically on crutches due to extremely painful plantar fasciitis thathad been going on for months. In just 6 weeks, Dr. Lester has helped me tremendously where now, I'm able to finally get around on my own! Reception staff is friendly and welcoming. Thank you!!
Sara Norton Weales
★★★★★
I'm seeing Dr. Ho for naturopathic and accupuncture for migraines and chronic tension, and I love it here so much I referred my husband to go see Dr. Lester for chiro and he loves it here too.
Ally Medeiros
★★★★★
I have had the best experience here! Came in so tense and in so much pain, and Dr. Nimal used different methods to get me feeling better than I ever was. She's so good at what she does and makes you feel comfortable while she heals you. Won't go to anyone else.
Jane Lawrence
★★★★★
Dr. Cecilia Ho fully listens to symptoms and has achievable solutions to whole well being.
Taisha Lewis
★★★★★
Dr. Diane is wonderful, incredibly helpful, caring, knowledgeable and hilarious. Highly recommend.
Devon
★★★★★
Usually I don't mess these type of treatment but Active Integrative Medicine treatment is the truth 100%
We create a comfortable environment to promote your healing journey.
Chiropractic Care Yields Many Benefits
Similar Services We Offer: