Massage therapy enhances an overall sense of emotional and physical wellbeing.
Massage therapy is a regulated health profession in Pickering, Ontario. It is a highly effective, hands-on manipulation of soft tissues, including muscles, connective tissues, tendons, ligaments and joints. Massage therapy is more than just about relaxation. Not only has it been shown to help alleviate discomfort associated with everyday and occupational stresses/muscular overuse, but it can also help treat many chronic pain conditions and help in injury recovery and rehabilitation.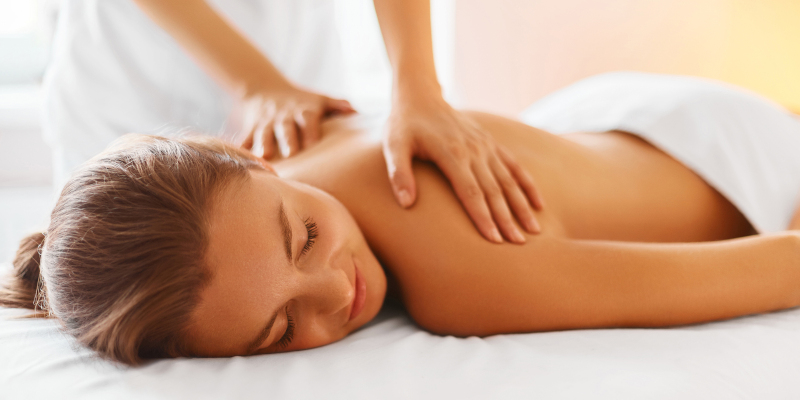 What are the benefits of massage therapy?
Massage therapy benefits people of all ages throughout the Pickering area, including people with acute to chronic conditions. It enhances an overall sense of emotional and physical wellbeing through:
Improving joint mobility
Reducing or eliminating pain
Improving circulation
Improving lymphatic drainage
Reducing muscular tension
Calming the nervous system
The AIM Clinic- we take a harmonized approach to healing!
What are common conditions that massage therapists treat?
Registered massage therapists are trained to help relieve:
Arthritis & tendonitis
Stress & associated symptoms
Headaches & migraines
Repetitive strain Injury
Muscle tension
Neck & back pain
Post-injury & post-surgical rehabilitation
Symptoms during and after pregnancy
Muscle conditions (spasms, strains)
Circulatory & nervous system problems
Sports injuries
Massage Services Offered
Our registered massage therapists have years of training in diverse types of treatment techniques and massage therapy. Whether you're injured or stressed, in chronic pain or just need a bit of relaxation, we will customize an integrative treatment plan that will help you achieve your optimal health.
Swedish Massage– The most popular type of massage on which all other massage styles are based.
Deep Tissue Massage– This massage focuses on releasing chronic tension and engages muscles more intensely. Deep tissue massage releases resistant knots to decrease pain and tension and creates better range of motion for joints and muscles.
Lymphatic Drainage– Designed to reduce swelling and alleviate pain caused by edema. Edema (inflammation) can be caused by acute or chronic conditions.
Myofascial Release– Focuses on releasing fascial tissue from underlying muscle. It increases mobility and range of motion, as well as decreases pain and scar tissue.
Trigger Point Therapy– Focuses on massage, compression of the muscles, and deep breathing to help alleviate muscle tension and pain.
Sports Massage- Can help the body recover from physical activities, as well as improve performance and prevent any future injuries.
Pre- and Post-Natal Massage– Helps ease pain and tension associated with pregnancy.
Hot Stone Massage– Uses specialized stones that hold heat, helping to create a sense of warmth and wellbeing throughout the body.
Frequently Asked Questions
What can I expect on my initial massage visit?
An assessment will be performed to determine the best course of treatment for you. The treatment plan will be discussed with you and suggestions will be made to optimize your personal therapy. The techniques used during each treatment will stretch and loosen connective tissue and muscles. This helps increase joint movement and function, which reduces muscle tension. After the massage, you may be given some suggestions for home care, along with a recommendation for follow-up treatments. If you haven't completed the online intake form sent in your welcome email, please arrive at the
clinic 15 minutes early to fill out the form.
Is massage therapy covered under OHIP?
Massage visits are not covered by OHIP. However, most extended health care plans do provide coverage. Please note some insurance companies require a prescription from a medical doctor prior to covering costs.
Do you provide direct billing for massage visits?
Yes, we do provide direct billing. Please inquire with our front desk to confirm if we can submit for your insurance company​.
Active Integrative Medicine for Optimal Health and Healing.
Our team is proud to serve the Pickering community, and we want to help you achieve optimal health. If you are interested in trying our massage therapy treatments, we encourage you to give us a call to learn how to get started.
Similar Services We Offer: